Útgáfuhóf Afmælisrits Samtakanna '78
When:
27th June 2020 @ 19:00 – 23:00
2020-06-27T19:00:00+00:00
2020-06-27T23:00:00+00:00
Where:
Loft Hostel
Bankastræti 7
101 Reykjavík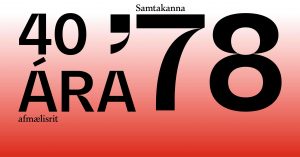 **ENGLISH BELOW**
Verið velkomin í útgáfuteiti Afmælisrits Samtakanna '78, 27. júní kl. 19 á Loft Hostel.
Sönn drottning mætir aldrei snemma á svæðið og svo er raunin um Afmælisrit Samtakanna ´78. Afmælisár eru kjörin tækifæri til að líta um öxl og ekkert afmælisboð er fullkomnað án þess að einhver slái í glas og ræði um gamla tíma.
Í ritinu er m.a fjallað um sjálfboðaliðastörf í félaginu frá stofnun þess til dagsins í dag og öll þau ósýnilegu störf sem félagsfólk vann í gegnum tíðina, málefni trans fólks frá aldamótum til nútímans, minni og gleymsku í samhengi við réttindabaráttu og söguvitund, hugtakið bleikþvott og hinsegin menningu og listir. Í ritinu má einnig lesa viðtöl við Agnesi Jónasdóttur, Ástu Kristínu Benediktsdóttur, Lönu Kolbrúnu Eddudóttir um regnbogaþraðinn, hinsegin leiðsögn um grunnsýningu Þjóðminjasafnsins og viðtal við Bjarna Snæbjörnsson um einleik hans sem byggir á skápasögu hans sjálfs.
Greinahöfundar eru María Helga Guðmundsdóttir, Ugla Stefanía Kristjönudóttir Jónsdóttir, Íris Ellenberger, Hafdís Erla Hafsteinsdóttir, Edda Sigurðardóttir, Ynda Eldborg og Bjarndís Helga Tómasdóttir.
Eintök af ritinu verða til staðar og eru ókeypis. Boðið verður upp á veitingar og skemmtiatriði. Fullt aðgengi er fyrir hjólastóla að salnum. Öll velkomin!
–
Welcome to our publishing party of the Anniversary Issue of Samtökin '78, at Loft Hostel the 27th of June at 7 PM. Please note that this is an open event and everyone is welcome.
The Anniversary Issue covers a variety of topics: from the selfless contribution of our volunteers throughout the years, trans matters from the beginning of the century until now, what is remembered and what is forgotten from our fight for equal rights, the term 'pink washing', interviews with queer people and of course, queer culture and art.
The Anniversary Issue is free of charge. There will be food offered. The space is wheelchair accessible. Everyone is welcome!