Traces of Spaces
When:
1st August 2020 @ 15:00 – 19:00
2020-08-01T15:00:00+00:00
2020-08-01T19:00:00+00:00
Where:
In front of Hallgrímskirkja Curch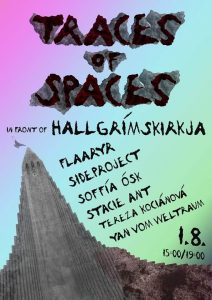 Traces of Spaces will take place on 1. 8. 2020 in front of the Hallgrímskirkja between 15:00 – 19:00. We would love to invite you all for this sunny afternoon!
*
One red van, two exhibitions. One stage, four gigs.
Tereza Kociánová is working with painting, drawing and textile, her inspirations are popping up from landscape and relation between the human and nature.
https://terezakocianova.wixsite.com/tereziana
*
Stacie Ant is a Russian/Canadian new media artist and curator currently based in Berlin. Ant draws on her experiences as a female artist while developing the critical views of our technologically-saturated contemporary society that inform her work. Using video, installation, and performance, Ant reinvents elements of contemporary culture through fictional, maximalist narratives.
https://stacieant.com/
*
Flaaryr is Diego Manatrizio, Reykjavík based experimental composer and guitarist from Buenos Aires, Argentina. Although he prefers not to frame himself into any particular genre, his style oscillates between minimalism, math, and noise. His music is strongly characterized by meticulous looping, rhythmic experimentation, and a thorough exploration of the timbrical and textural possibilities of the guitar by the use of extended techniques.
https://www.instagram.com/flaaryr/
*
yan vom weltraum (yan from outer space) is an electronic-pop project based in berlin but originally from outer space. his body of work combines dark synths and lyrics which are reflecting on inner feelings, metaphysics and the universe.
https://www.instagram.com/yanvomweltraum/
*
Indie musician Soffía Ósk has been playing in bars, at festivals, and on street corners since 2009. Her debut album 'In Two' was released in 2018. Her music is characterised by sincere lyrics, a raspy voice, and of course the ukulele. Fuelled by time spent on an isolated and dark island, Soffía Ósk has been writing music from a very early age. And after ten years of living in England, her music has a certain British twang to it.
https://www.youtube.com/watch?v=hPvEf8M8rrU
*
This event is sponsored by City of Reykjavík.