Share your payslips!
When:
7th February 2021 @ 18:00 – 19:30
2021-02-07T18:00:00+00:00
2021-02-07T19:30:00+00:00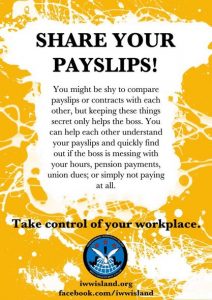 Learn how to understand your payslip and how to stop your boss from stealing your wages. Bring your payslip and we will read them together.
Meet your fellow workers and learn about the IWW!
Please remember to bring a mask!
Accessibility:
There are 5 steps leading to the main entrance, each 17 cm high, door widths in the building vary between 50 cm (upstairs washroom door) and 80 cm (entrance door).
The bathrooms are so far only on the upper floor and in the basement. The door to the meeting room is 75 cm wide (as most other doors in the building). There is no bathroom on the ground floor.
Both washrooms in the building are gender neutral, there are name tags and pronoun buttons by the entrance.
There is a play room for children upstairs.
iwwisland.org / facebook.com/iwwisland island@iww.org