Ropejam
When:
26th June 2020 @ 19:00 – 23:00
2020-06-26T19:00:00+00:00
2020-06-26T23:00:00+00:00
Where:
FRAKTAL
Hringbraut 119
107 Reykjavík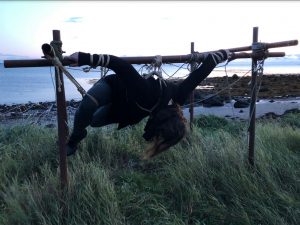 *** ROPE JAM ***
Rope Jams are an open space for tying, learning and practicing.
No need to sign up, everybody is welcome to socialize get to know and be part of the community and have fun with tying ♥
✨Looking forward to seeing you and have fun together ✨
1.000kr/person
(please pay upon arrival)
_____________________________________________________
_____________________________________________________
***PLEASE READ: RULES AND GUIDELINES***
(as borrowed from Ellipsis rope studio in Rotterdam)
_____________________________________________________
1. General Rules & Etiquette
1.1 Abusive, inappropriate or offensive behavior will not be tolerated and will result in immediate expulsion from the space without refund. The organizers reserve themselves the right to ban people from the space and events if deemed neccessary for keeping a safe space for the community.
1.2 No shoes in the studio. We do not allow outside shoes inside the space for hygienic reasons.
1.3 Don´t step on other people´s ropes or handle them without asking permission first. Often a person´s set of rope is personal and valuable and we expect you to treat another's property in a respectful way.
1.4 Don't touch people without their consent. Some people need more personal space than others and even though hugging and tapping someone on the shoulder can be acceptable for some, it might be intrusive to others. Always check with people before touching them in any way. This goes double for people who are tied.
1.5 Please clean up after yourself. We want to keep the space clean and free of clutter. Please throw out any trash you create, store your bags/coats/shoes in the designated storage spaces and clear your space of rope after you're done tying to allow others to make use of the available space.
1.6 No fetish wear or full nudity in the space.
We advise you to wear comfortable clothing while tying.
1.7 Keep your volume at a reasonable level, both while tying and while socializing. We have a special lounge area where you can sit and socialize. The main space is for bondage.
_____________________________________________________
2. Rope Labbing & Play
2.1 Please note that Rope Jams are rope bondage oriented (social) events and are NOT PLAY PARTIES.
2.2 During the Jams we allow both (and differentiate between) rope labbing and rope play sessions. Rope labbing is usually defined as "practicing" what you've learned and trying out new stuff. Usually, there is a lot of communication between rope partners and/or with others who are sharing their knowledge and insights. During rope play or a rope session a couple or individual is usually tying patterns and techniques they are skilled at and are usually more intimate.
2.3 Please approach people who are tying with care or perhaps save any remarks (like compliments, etc) until after their session is finished. Observing a session is always allowed, but please keep a respectful distance while doing so.
2.4 Some (traditional) rope related (consensual) play is allowed while tying. Most important to keep in mind is that to not unnecessarily disturb others. Typical play features can include: body manipulation, tying over the (unexposed) genital area, blindfolds, mouth-ropes, constrictions, predicaments or exposure (no full nudity). Please refrain from any extensive impact play, verbal humiliation (since this automatically includes others) and intentionally painful ties to cause screaming.
2.5 Neckropes are only allowed during floor-based sessions (not during suspensions) and only as "play ropes" (not tied of but held in hand) or tied off with a quick release. If you do not have experience with these techniques, don't include them in your session!
2.6 Wax play is not allowed during our Rope Jams.
2.7 Make sure you practice safe and consensual bondage, don't take unnecessary risk and only take risks if all participants are aware of the risk and willing to take them. Always keep a safety-shear and/or rescue hook in reach and ask for help in case of any emergency!
_____________________________________________________
3. Sex positivity, sexual orientation and gender identity
3.1 We are proponents of a sex-positive culture. This does not mean that we allow sexual interaction within the venue. It does mean that we believe that the appropriate uses of sex extend beyond reproduction and have a non-judgemental approach to all, explicitly consensual, forms of sexuality. Slut-shaming, prude-shaming, and kink-shaming are highly opposed in our space and we instead strive for body acceptance, overall sexual health, and responsibility.
3.2 We do not allow any form of discrimination against anyone sexual orientation and oppose hetero-normative attitudes.
3.3 We respect people's gender identity and gender nonconformity. "Gender identity refers to an individual's internalized psychological experience of being male or female, whereas gender nonconformity refers to the degree to which an individual's appearance, behavior, interests, and subjective self-concept deviate from conventional norms for masculinity/femininity."(Lisa M. Diamond et al., Handbook of Child Psychology and Development Science, 7th edition, 2015)
_____________________________________________________
4. Use of hardpoints
4.1 Use of the hardpoints and rings installed is only allowed after getting explicit consent from the host! If you wish to make use of our hardpoints, we want to be sure you have the required skill set to do so safely. Please ask any of our hosts for permission. Once granted, you are free to use the hardpoints and beams in the future unless we decide otherwise.
4.1 Don't use the suspension rings as a jungle gym or any other unintended use! We installed the hardpoints specifically for bondage suspension purposes. Using them in any other way might be unsafe for both you and the people around you.
4.3 No neck-ropes in suspension. We do not allow neck-ropes in (partial) suspension like mentioned before (2.5).
_____________________________________________________
5. Photography
5.1 You are only allowed to take pictures of your own work and your own partner (with consent). Taking pictures of (any part) of other people is NOT allowed.
5.2 Please do not use flash photography since this can be very distracting for others.
5.3 Video or audio recordings are only allowed after explicit consent by our organization.
_____________________________________________________
No food or drinks in the tying area.