A-byssó café
When:
10th July 2020 @ 20:00
2020-07-10T20:00:00+00:00
2020-07-10T20:15:00+00:00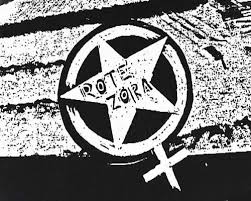 Abyssó café – for a community in struggle
Friday 10 July
Café opens at 20:00
Discussion starts at 21:00
This time A-byssó presents Sisters in arms – Militant feminism in Germany.  
Discussion and screening of the film Die Rote Zora tracing the herstory of the Rote Zora, a revolutionary feminist liberation movement in Germany active from 1975 until around 1995.  By means of militant resistance, the group wanted to do away with all repression, be it directed at women or of a general nature. It did not see the use of force against women as exceptional but as a universal principle of domination. It thus linked the struggle against patriarchy and sexist violence with the struggle against social power relations and society in the Republic of Germany. It was not interested in obtaining power but in limiting authority to ultimately bring about a society without domination.
The group committed a series of bombing and arson attacks against our enemies, including individuals and organizations thought to be involved with sexism, the exploitation of women, genetic engineering, the enforcement of patriarchal society, nuclear power and the anti-abortion movement.
The film Die Rote Zora presents interviews with a few women of Rote Zora where they talk about their experiences, actions and ideas.
Discussions will be in English. The film is in German with English subtitles.