Bíókvöld Svarthols menningarneindar: The Net // Cultural nothingness' movienight: The Net
When:
15th March 2020 @ 20:00 – 22:30
2020-03-15T20:00:00+00:00
2020-03-15T22:30:00+00:00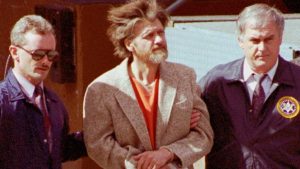 Svarthol—menningarneind kynnir:
The Net, Heimildamynd eftir Lutz Dammbeck (2003)
Enska & þýska (með enskum texta), 115 mínútur
Sunnudaginn 15. mars 2020—kl. 20:00
Andrými—Bergþórugata 20—101 Reykjavík
Frítt inn—en frjáls framlög til Andrýmis vel þegin
Á árunum 1978–1985 stóð Ted Kaczynski, fyrrum stærðfræðiprófessor, einsamall fyrir sprengjuherferð gegn fólki innan úr bandaríska tæknigeiranum; þrír létu lífið & 23 særðust. Hvaða erindi á Kaczynski—sem gefið hafði akademískan feril upp á bátinn fyrir einfalt líf úti í náttúrunni—í kaleidóskópíska frásögn af netheimum & hryðjuverkum, útópíustjórnmálum & amerískri andmenningu, LSD & CIA, sálfræðingnum Timothy Leary & eðlifræðingnum Heinz von Förster, rithöfundinum Ken Kesey & síkadelísku rokkhljómsveitinni Grateful Dead?
Um miðbik 20. aldar kom fram á sjónarsviðið herskari hugsuða vopnaður nýjum uppgötvunum í tækni & vísindum, stýri- & kerfisfræði, margmiðlunarlist, hernaði & sálfræði, sem áttu eftir að hafa gríðarleg áhrif á flestum sviðum mannlegrar tilveru. Samhliða örri þróun internetsins á síðasta fjórðungi 20. aldar vöknuðu upp áleitar spurningar um áhrif takmarkalausra framfara í upplýsingatækni á náttúru & samfélag. Í óhefðbundinni & ögrandi heimildamynd sinni skoðar Dammbeck þessa sögu & tvinnar saman við bréfaskipti sín & lífstíðarfangans Kaczynskis.
***
Svarthol—cultural nothingness presents:
The Net, Documentary by Lutz Dammbeck (2003)
English & German (with English subtitles), 115 minutes
Sunday March 15th 2020—8:00 p.m.
Andrými—Bergþórugata 20—101 Reykjavík
Free entrance—but feel free to donate a bit for Andrými's rent

From 1978 to 1985, former math professor Ted Kaczynski ran a lone-wolf bombing campaign, targeting individuals from within the U.S. techno-industry—of whom three died & 23 were injured. Where does Kaczynski—who had turned his back to an academic career for a simple life in rural Montana—fit into a kaleidoscopic narrative, including the internet & terrorism, utopian politics & American counter-culture, LSD & CIA, psychologist Timothy Leary & physicist-philosopher Heinz von Förster, author Ken Kesey & psychedelic rock-group Grateful Dead?
In the mid-20th century, a network of thinkers came forth with new discoveries in science & technology, cybernetics & systems theory, multimedia art, psychology & military research—affecting all spheres of human life. With the development of the internet during the last quarter of the 20th century, the question arose: What does the unlimited development of information technology mean for nature & society? In his unorthodox & provocative documentary, Dammbeck examines this story—interweaving it with his & Kaczynski correspondence.