Movie screening: The Forbidden Alternative
When:
13th September 2018 @ 20:00
2018-09-13T20:00:00+00:00
2018-09-13T20:15:00+00:00
An independently organised event.
Libertarians is a nomad communication project. The documentary "The Forbidden Alternative" shows different ways of living. Wether in the city or the countryside, many realities are shown, in this long journey through Poland, Norway, Portugal, Italy and Spain.
And now, it goes on in Iceland.
Come to Andrými on Thursday 13th of September at 20:00. An organic projection and a talk about the alternative scene will take place.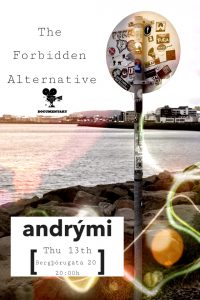 Accessibility:
We have just moved to a new location at Bergþórugata 20. The building is currently not wheelchair accessible, unfortunately, but it is our top priority to make it so. An architect is already working on drawing a ramp and making an accessible bathroom in the space.
There is a step before the garden gate and then 5 steps leading to the main entrance, each 17 cm high, door widths in the building vary between 50 cm (upstairs washroom door) and 80 cm (entrance door), and the washrooms are so far only on the upper floor and in the basement. The door to the meeting room is 75 cm wide (as most other doors in the building).
Both washrooms in the building are gender neutral.