Við þurfum að tala saman /// We need to talk
When:
7th July 2020 @ 17:30 – 19:00
2020-07-07T17:30:00+00:00
2020-07-07T19:00:00+00:00
Where:
Iðnó
Vonarstræti 3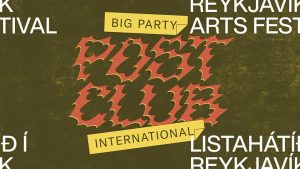 This event is part of post-dreifing's takeover of the Reykjavík Art Festival Club 2020 in Iðnó.
17.30 – ENGLISH
FREE ENTRY
bring your friends and your glasses because this is a multimedia art-piece. With music, movie, theatre and much more.
—————
Þessi viðburður er hluti af yfirtöku post-dreifingar á Klúbbi Listahátíðar í Reykjavík 2020 í Iðnó.
20.30 – ICELANDIC
FRÍTT INN
Taktu vini þína með og komdu með gleraugu. Þetta er margmiðla-listaverk. Tónlist, bíó, leikrit og fleira.