Screening: The Chicago Conspiracy
When:
11th September 2018 @ 20:00
2018-09-11T20:00:00+00:00
2018-09-11T20:15:00+00:00
An independently organised event.
11th of September 1973, a military coup took place in Chile resulting in a
dictatorship under Augusto Pinochet. The dictatorship has fallen but its
legacy is still present.
We commemorate this day and the struggle now taking place in Chile by
showing the documentary The Chicago Conspiracy. Before the film there will
be an intervention from comrades in Chile.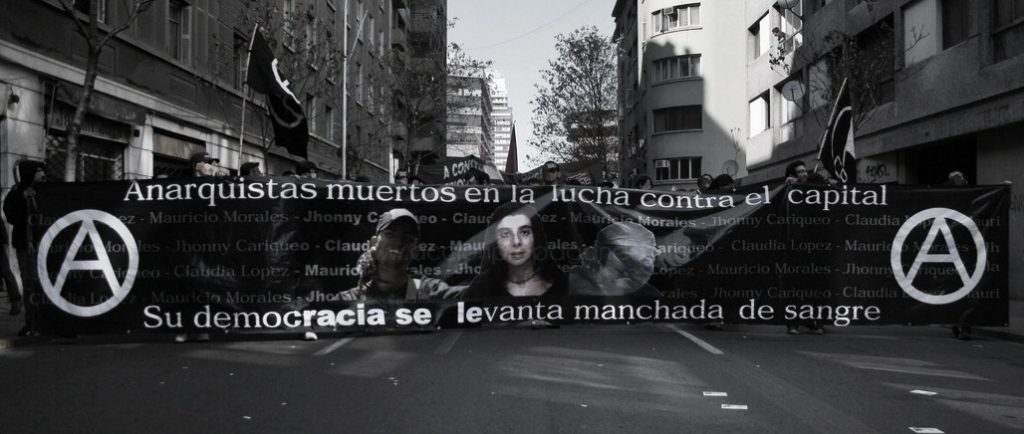 The Chicago Conspiracy is about today. We began this documentary with the
death of a dictator, but we continue with the legacy of a dictatorship.
The Chicago Conspiracy is about the Day of the Youth Combatant. On this
day, two young brothers and militants of the MIR, Rafael and Eduardo
Vergara, were gunned down by police as they walked through the politically
active community Villa Francia. March 29 is not only about the Vergara
brothers—it is a day to remember all youth combatants who have died under
the dictatorship and current democratic regime.
The Chicago Conspiracy is about the students who fight a dictatorship-era
educational law put into place on the last day of military rule. Over
700,000 students went on strike in 2006 to protest the privatized
educational system. Police brutally repressed student marches and
occupations.
The Chicago Conspiracy is about the neighborhoods lining the outskirts of
Santiago. They were originally land occupations, and later became centers
of armed resistance against the military dictatorship. A number of them,
such as la Victoria and Villa Francia, continue as areas of
confrontational discontent to this day.
The Chicago Conspiracy is about the Mapuche conflict. The Mapuche people
valiantly resisted Spanish occupation, and continue to resist the Chilean
state and the multinational corporations who strip Mapuche territory for
forestry plantations, mines, dams and farming plantations. The government
has utilized the dictatorship-era anti-terrorism law to jail Mapuche
community members in struggle. Two young weichafes (Mapuche warriors),
Alex Lemún and Matías Catrileo, were recently killed by Chilean police—one
in 2002, the other in 2008.
With a combative remembrance
The social war continues!
Accessibility:
We have just moved to a new location at Bergþórugata 20. The building is currently not wheelchair accessible, unfortunately, but it is our top priority to make it so. An architect is already working on drawing a ramp and making an accessible bathroom in the space.
There is a step before the garden gate and then 5 steps leading to the main entrance, each 17 cm high, door widths in the building vary between 50 cm (upstairs washroom door) and 80 cm (entrance door), and the washrooms are so far only on the upper floor and in the basement. The door to the meeting room is 75 cm wide (as most other doors in the building).
Both washrooms in the building are gender neutral.