Reykjavik Blackbird Mini-Festival
When:
3rd July 2020 @ 17:00 – 22:00
2020-07-03T17:00:00+00:00
2020-07-03T22:00:00+00:00
Where:
Norræna húsið
Sæmundargata 11
101 Reykjavík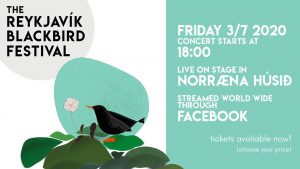 Reykjavík Blackbird Festival er sænsk/íslensk tónlistarhátíð verður haldin þann 3. júlí næstkomandi.
Hátíðin mun fara fram í Norræna húsinu en einnig verður streymi frá henni í gegnum Facebook live stream.
The Reykjavik Blackbird Festival is a Swedish/Icelandic music event taking place on the 3rd of July in Nordic House Reykjavik, and world-wide through Facebook Live stream.
○ The concert starts at 18:00 Icelandic time ○
(runtime approx 2h 15min).
Doors open at 17:00
SLIDING SCALE PRICE (2000 isk recommended)
○ Get your tickets here ○
http://rvkblackbird.com/index.php/product/admission/
Live on stage at the Nordic House:
Sigurður Flosason & Kjartan Valdemarsson
Mikael Lind
S.hel
Ondina Hidalgo
Marko Svart
From Sweden through video:
Kristian Anttila
Maia Hirasawa
Thomas Backman
Sång, Sax & Slagverk
ELARA
❀❀❀
Upprunalega átti stór hópur listamanna að koma til landsins, með því markmiði að styrkja (tengd) bönd á milli Íslands og Svíþjóðar, að sýna þá mikla menningu sem löndin okkar hafa. Hátíðin átti að standa í þrjá daga en vegna Covid-19 varð því miður að fresta henni. Í stað hennar höfum við ákveðið að halda minni hátíð, en jafn skemmtilega þrátt fyrir, með íslenskum listamönnum á sviðinu í Norræna húsinu en sænsku atriðunum mun vera streymt í gegnum netið til okkar.
Það kostar ekkert inn á hátíðina en við værum þó þakklát ef þið gætuð styrkt hátíðina ef þið getið, (mælt með 2.000 kr) til að styrkja verkefnið og listamennina sem koma að henni. Takmarkaður sætafjöldi er í boði svo ef þú vilt fá miða nældu þér í hann núna. Auk tónleikanna verður meira um að vera í Norræna húsinu þetta kvöld sem tilkynnt verður seinna, svo hafið augun opin fyrir fleiri tilkynningum.
❀❀❀
Originally planned as a big 3-day festival with an impressive array of artists, with the aim of strengthening the already outstanding cultural collaboration between Sweden and Iceland, while also proudly showcasing the precious cultural languages our countries have to offer.
The event was postponed due to travel restrictions and other difficulties during COVID-19.
We will instead be holding a smaller, but equally fun version of the festival with amazing Icelandic artists live on stage at the Nordic House, and prominent Swedish acts who will play for us via video stream.
Tickets are free, but we wish for a donation (2000 ISK recommended) to support the project and the participating musicians. There are limited seats available so make sure to get yours now!
In addition to the concert, there will be a lot of fun things going on in and around the Nordic House during the evening. Keep your eyes open for updates!
This event is made in collaboration with the Nordic House and the Swedish Embassy in Reykjavik.