MSEA + BSÍ + Nornagal Free Concert!
When:
10th November 2018 @ 14:00 – 17:00
2018-11-10T14:00:00+00:00
2018-11-10T17:00:00+00:00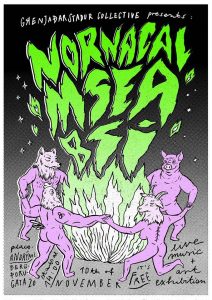 Grenjaðarstaður Collective is organising their first event, in the form a free concert and visual art exhibition. What is better to enjoy on a Saturday afternoon than a performance from the local art scene?
The music will go from a melodic singer performance to psychedelic rock, passing by Krútt pönk – mixing chilled with more energetic styles.
The exhibition will be filled with drawings from KosmoNatka and Hellmoonk.
It starts at 14:00, with 3 bands playing around 30 minutes each.
– MSEA (https://www.facebook.com/mseasik)
– BSÍ (https://www.facebook.com/brusselssproutsintl)
– Nornagal
The event is free, there will be snacks, and donations for Andrými are obviously very welcome!
Seats will be available for the concert.
Accessibility:
Andrými is at Bergþórugata 20.
(The entrance is by Vitastígur)
The building is currently not wheelchair accessible, unfortunately, but it is our top priority to make it so. An architect is already working on drawing a ramp and making an accessible bathroom in the space.
There is a step before the garden gate and then 5 steps leading to the main entrance, each 17 cm high, door widths in the building vary between 50 cm (upstairs washroom door) and 80 cm (entrance door). The door to the meeting room is 75 cm wide (as most other doors in the building).
The washrooms are so far only on the upper floor and in the basement.
Both washrooms in the building are gender neutral.