Drag-Súgur: Yfirtaka í Iðnó
When:
27th June 2020 @ 13:00 – 23:00
2020-06-27T13:00:00+00:00
2020-06-27T23:00:00+00:00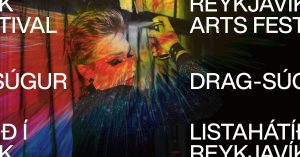 Drag-Súgur is taking over the Festival Hub of Reykjavik Arts Festival (IÐNÓ) for the week!
Open Drag related workshops and events, filling the space with glamour, glitter, queerness and love- and the best part is that YOU get to be a part of it!
There will be several free admission public events to look forward to, including the following;
*Wednesday, June 24th*
DRAG MARKET – from 18-20
Go grab yourself something glamorous to use for the rest of the week, you'll need it 😉
*Thursday, June 25th*
DRAG DANCES – from 18-20
Agatha P. will teach you the true meaning of being a dancing diva! Bring yours heels or your fanciest boots and get ready to strut!
*Friday, June 26th*
DRAG ME UP! – from 14-18
Gógó Starr hosts an open ended drag makeup and hair workshop where everyone is encouraged to get into full drag, henny! Bring whatever you have and prepare yourself for an exciting transformation.
*Saturday, June 27th*
DRAG TAKEOVER! – from 13-18
Open house in Iðnó, where there will be glitz and glamour, popup performances and some surprises soon to be announced.
DRAG READING – from 15-16
How about a soothing drag book reading for the youngest generation with the amazing drag queen Starina.
DRAG SHOW! – from 21-23
A free ALL AGES drag show? See the result of the week live on stage. Get up into this gig, cuz it'll be something else!
Come join us and let's celebrate the artform of drag and see the local drag scene like you've never seen it before.. in daylight.
This is bound to go somewhere interesting real fast, and you're invited along for the ride!
Organized by Drag-Súgur and Reykjavík Arts Festival.