Big Party Post Club International
When:
1st June 2020 @ 17:00 – 23:00
2020-06-01T17:00:00+00:00
2020-06-01T23:00:00+00:00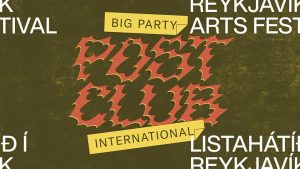 post-dreifing kynnir, í samstarfi við Listahátíð í Reykjavík:
Sjá nánari daga dagskrá.
– B I G – P A R T Y – P O S T – C L U B – I N T E R N A T I O N A L –
Vinnusmiðjur! – Tónleikar! – Viðburðir! – Gjörningar!
Iðnó, 1.-12. júlí 2020
Í samstarfi við Listahátíð í Reykjavík kynnum við stolt yfirtöku post-dreifingar á Klúbbi Listahátíðar 2020 í Iðnó.
Sumarið okkar í post-dreifingu fór hægar af stað en við höfðum séð fyrir okkur – vegna ástandsins í samfélaginu urðum við að fresta hinni árlegu tónlistarhátíð HÁTÍÐNI fram til ársins 2021. En þegar einar dyr lokast opnast gjarnan aðrar, og í ár (á fimmtugasta afmælisári sínu) var það Klúbbur Listahátíðar í Reykjavík sem bankaði upp á. Við tökum klúbbaþemað grafalvarlega og ætlum að breyta Iðnó í sannkallaða miðstöð grasrótarinnar; alþjóðlegan stórveislu-post-klúbb.
Við munum fyrir vikið standa fyrir fjölbreyttri dagskrá í Iðnó fyrstu tvær vikurnar í júlí – m.a. vinnusmiðjum, tónlistarviðburðum, ljóðaupplestrum og sýningum á myndbandsverkum. Hugmyndin með vinnusmiðjunum er að bjóða áhugasömum að taka þátt í hinum ýmsu hliðum þeirra verkefna sem post-dreifing stendur fyrir og taka fyrir jafnt það sem tengist skapandi ferlum og skipulagsstarfi. Eins og sum vita, byggist hugmyndafræðilegur grundvöllur post-dreifingar á svokallaðri DIT-nálgun (Do-It-Together, eða gerum-það-saman). Í samræmi við það er helsta markmið verkefnisins einmitt að miðla þekkingu og reynslu (e. knowledge sharing) í þeirri von að veita fólki innblástur til að byrja sjálft að skapa.
Það er post-dreifingu kærkomið að fá vettvang á Listahátíð í Reykjavík til að miðla þekkingu og sýna afurðir listsköpunar þeirra sem starfa innan samlagsins – kynna starfsemi okkar og vonandi hafa ógeðslega gaman. Við getum ekki beðið eftir að bjóða ykkur velkomin í klúbbinn.
———
post-dreifing presents, in collaboration with Reykjavík Art Festival:
– B I G – P A R T Y – P O S T – C L U B – I N T E R N A T I O N A L –
Workshops! – Concerts! – Events! – Performances!
Iðnó, 1.-12. July 2020
In collaboration with Reykjavík Art Festival, we proudly announce post-dreifing's takeover of the 2020 Reykjavík Art Festival Club in Iðnó.
For us involved with post-dreifing, the summer got off to a slower start than we had previously pictured – with the tense situation in society we had to postpone our yearly music festival, HÁTÍÐNI, to 2021. But when one door is shut a new one often opens up, and this year (on their fiftieth anniversary) Reykjavík Art Festival came knocking. We take the club-theme very seriously and plan to turn Iðnó into a true hub of the local underground; an International Big Party Post-Club.
We'll host a diverse schedule in Iðnó over the first two weeks of July – workshops, music-events, poetry readings, performances, screenings, exhibitions and more. The workshops will play a big part here and the idea behind them is to invite those interested to take part in the many different aspects of post-dreifing's countless projects, focusing equally on creative processes and organizational work. As some might know, post-dreifing's ideological foundation is based on a so-called DIT (Do-It-Together) approach. In harmony with those values the project's primary goal is knowledge sharing – and hopefully inspiring people to start creating themselves.
It is very dear to our collective to get a platform at Reykjavík Art Festival to share our experiences and the creative products of those who work within it – to introduce our project and hopefully have a ton of fun. We can't wait to welcome you all to the club.